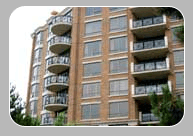 Roman Metal balconies are manufactured to fit the custom ornamental design of your choice. Metal balconies are produced with mild steel components and are fabricated "in house" at our 30,000 Sq. ft. open bay building.
After the balconies are manufactured, they are hot dipped and galvanized.
Roman Metal will also supply and install the canopy of your choice using only the most modern construction and architectural design techniques.